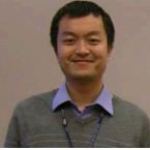 United States
University of Massachusetts Medical School.
Yi Shan
Address:
364 Plantation st,
LRB-280K,
Worcester, MA 01605.
Research Interests:
CML, AML, BALL, MPD, Novel strategy for leukemia via targeting cancer stem cells, Cancer biology, Cancer gene therapy
Biography:
Yi Shan currently works at the Department of Medicine, University of Massachusetts Medical School.
Yi does research in Cancer Research, Cell Biology and Genetics.
Their current project is 'Leukemia study and potential strategies for leukemia therapy.'
Publications:
LAPTM4B: a novel cancer-associated gene motivates multidrug resistance through efflux and activating PI3K/AKT signaling.
A therapeutically targetable mechanism of BCR-ABL–independent imatinib resistance in chronic myeloid leukemia.
A tumor suppressor function of the Msr1 gene in leukemia stem cells of chronic myeloid leukemia.
Overexpression of LAPTM4B-35 attenuates epirubucin-induced apoptosis of gallbladder carcinoma GBC-SD cells.
Arachidonate 15-lipoxygenase is required for chronic myeloid leukemia stem cell survival.
Functional ramifications for the loss of P-selectin expression on hematopoietic and leukemic stem cells.
Upregulation of LAPTM4B‐35 Promotes Malignant Transformation and Tumorigenesis in L02 Human Liver Cell Line.
LSK Derived LSK–Cells Have a High Apoptotic Rate Related to Survival Regulation of Hematopoietic and Leukemic Stem Cells.
Targeting a novel cancer-driving protein (LAPTM4B-35) by a small molecule (ETS) to inhibit cancer growth and metastasis.
Targeting chronic myeloid leukemia stem cells with the hypoxia-inducible factor inhibitor acriflavine.