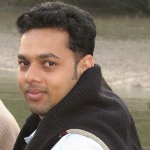 United States
University of California,
San Diego.
Deepak Kumar
Address:
University of California,
San Diego,
USA.
Research Interests:
Role of mRNA splicing in cancer, Tumor microenvironment
Biography:
Dr. Kumar did his Master in Biotechnology (Dept. of Biotechnology, Govt. of India) and PhD in Biotechnology from India.
During PhD Dr. Kumar developed novel synthetic promoter by using DNA shuffling, site directed mutagenesis and hybridization technique.
These synthetic promoters are patents on his name.
Dr. Kumar joined as Postdoctoral fellow in the University of California, San Diego.
His Postdoctoral research focused on "Targeting spliceosome with macrolides in Chronic Lymphocytic Leukemia (CLL) and other malignancies. We developed new macrolide which target and selectively kill cancer cells and also showed mRNA splicing modulation.
This molecule patented and shortly will be in clinical trial.
Dr. Kumar research also focused on targeting CXCR4 in CLL.