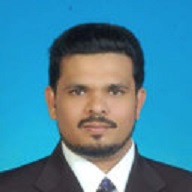 Malaysia
Universiti Sains Malaysia.
SHAIK FARID ABDULL WAHAB
Address:
DEPARTMENT OF EMERGENCY MEDICINE 4TH FLOOR,
TRAUMA CENTER UNIVERSITI SAINS MALAYSIA HEALTHY CAMPUS
16150 KOTA BHARU KELANTAN
MALAYSIA.
Research Interests:
Cell Culture
Cell Biology
Cardiopulmonary Resuscitation
CPR
Ergonomics
Emergency Medicine
Disaster Preparedness
Emergency Ultrasound.
Biography:
Shaik Farid Abdull Wahab currently works at the Department of Emergency Medicine, Universiti Sains Malaysia.
Shaik Farid does research in Pre-hospital Care, Disaster Medicine and Emergency Medicine.
Their current project is 'Ergonomic in health sector, emergency ultrasound.'
Research:
Considering Ergonomics in the Accident and Emergency Department: Possible or Not.
Qualitative, Quantitative or Mixed: Which Is the Most Preferred for Healthcare Studies.
CPR: Bright Side of Machine-Human Relationship.
Abstracts from the 13th WINFOCUS World Congress on Ultrasound in Emergency & Critical Care.
Adolescent to Adolescent Transformation Program - Nurturing, Enhancing & Promoting Adolescents' Healthy Habit (ATAP-NEPAH).
The Record-Setting Flood of 2014 in Kelantan: Challenges and Recommendations from an Emergency Medicine Perspective and Why the Medical Campus Stood Dry.
A Survey on the Choice of Transportation to come to Emergency Department among Patients with Acute Coronary Syndrome of A Community in Malaysia.
Community Engagement in Home Care Nursing for Needy Patients.
Intravenous parecoxib sodium as an analgesic alternative to morphine in acute trauma pain in the emergency department.