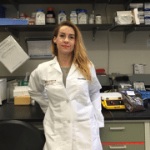 United States
Manager of the Pancreatic Islet and Regulatory T Cell Transplantation Research Lab,
Department of Surgery,
University of Chicago,
USA.
+1/312-479-6048
Karolina Golab
Address:
4800 S. Chicago Beach Dr.,
Apt. 1605N Chicago, IL 60615 USA.
Biography:
Skilled researcher with several years of laboratory experience in the field of clinical immunology, specialized in application of novel cell therapies for clinical purposes.
Overall, over 6 year experience and proficiency in cell processing and laboratory work with in depth knowledge of different laboratory methods such as: leukocyte subpopulation isolation, different cell culture techniques, Fluorescence Activated Cell Sorting (FACS), Treg ex vivo expansion, cell separation methods, immunophenotying analysis, fluorescence microscopy, confocal microscopy.
Full set of professional skills required for research investigation, setting hypothesis, designing and planning experiments, execution, data collection and analysis, presentations, manuscript writing.
Leadership skills leading research team during cell processing as well as daily lab work.
Excellent computer skills (working with different analysis software packages) and statistical skills.
Exceptional organizational and problem solving skills.
Unique set of skills and expertise in human cell processing for clinical and experimental applications:
Expert in clinical pancreatic islet isolation for allo and auto transplantation, leader of the islet isolation team with over 100 islet isolations performed, and over 50 were transplanted clinicallly with outstanding results.
Expert in Regulatory T Cells (Tregs) ex vivo expansion for clinical applications in transplantation, diabetes and other autoimmune disease (over 5 year experience).
Knowledge and experience in cell processing for clinical applications following FDA guidelines and current Good Manufacturing Practice (cGMP) regulations.
Publications:
Cell banking for regulatory T cell-based therapy: strategies to overcome the impact of cryopreservation on the Treg viability and phenotype.
Comparative evaluation of simple indices using a single fasting blood sample to estimate beta cell function after islet transplantation.
External Validation of the Newly Developed BETA-2 Scoring System for Pancreatic Islet Graft Function Assessment.
Pain Control, Glucose Control, and Quality of Life in Patients With Chronic Pancreatitis After Total Pancreatectomy With Islet Autotransplantation: A Preliminary Report.
Total Pancreatectomy with Islet Autotransplantation for the Ampullary Cancer. A Case Report.
Utilization of leukapheresis and CD4 positive selection in Treg isolation and the ex-vivo expansion for a clinical application in transplantation and autoimmune disorders.
Outcomes of Pancreatic Islet Allotransplantation Using the Edmonton Protocol at the University of Chicago.
Preservation of beta cell function following pancreatic islet auto-transplantation—University of Chicago experience
Islet cell transplant and the incorporation of Tregs.
Donor height in combination with islet donor score improves pancreas donor selection for pancreatic islet isolation and transplantation.