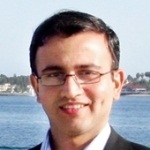 India
Assistant Professor & Wellcome Trust,
DBT India Alliance Early Career Fellow,
Department of Psychiatry,
National Institute of Mental Health & Neurosciences (NIMHANS).
Urvakhsh Mehta
Address:
Hosur Road,
Bangalore 560029,
India.
Research Interests:
Psychopathology, cognition, neurobiology, TMS
Biography:
My area of research interest has been to study schizophrenia from the perspective of it being a social brain disorder.
Specifically, I am keen on exploring the neurobiological basis ofsocial cognition impairments in schizophrenia (e.g., mirror neuron dysfunction) and develop novel methods to modulate brain regions involved in these complex cognitive abilities and thus enhance them by using non-invasive brain stimulation techniques.
I am a clinician-researcher. I have completed my MD in Psychiatry and have been involved in research which has been funded by the Indian Council of Medical Research, Department of Biotechnology, Government of india and the Wellcome Trust-DBT India Alliance.